Provalve Resuscitation Mask
$19.30
Disposable Resuscitating Device
One way / One application
Mouth to Mouth Resuscitation (Patent No. D302.746)
The PTP II Pro-valve with 3M filtrete filter material is designed to be used when a rescuer attempts to resuscitate an adult who has stopped breathing.
It will help protect the rescuer against potentially contaminated back drafts and secretions while providing a clear, flexible barrier to prevent unsanitary mouth-to-mouth contact.
Comes available in Resuscitation Kit
(This pack has been specially prepared for personal protection and aesthetic reasons whilst resuscitating casualty).
1 pc PROVALVE CPR Resuscitation Mask
1 pc MELINTEX Disposable PP Apron
1 pr MEDIGLOVE Disposable Gloves
2 pcs MELINTEX Disposable Plaster Strips, 19 x 72mm
2 pcs Alcohol Swabs
1 pc Yellow Limpet Bag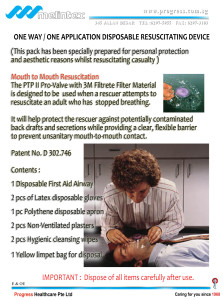 Only logged in customers who have purchased this product may leave a review.