Sale!
NineBot One P
$5,200.00
Ninebot is a brand new personal transportation robots for work, daily life, and entertainment. It is operated by built-in micro-electronic gyroscopes and sensors which consist of one set precise and high speed accelerometers.
These sensors will calculate the posture at the speed of 200-500 times per second. Once got the appropriate command from the high-speed processor, motor will work accordingly to make the scooters move. The rider can control the posture by leaning forwards or backwards to move forwards or backwards; the speed difference between the two wheels caused by the shifting of handlebar to the left or right leads to turning.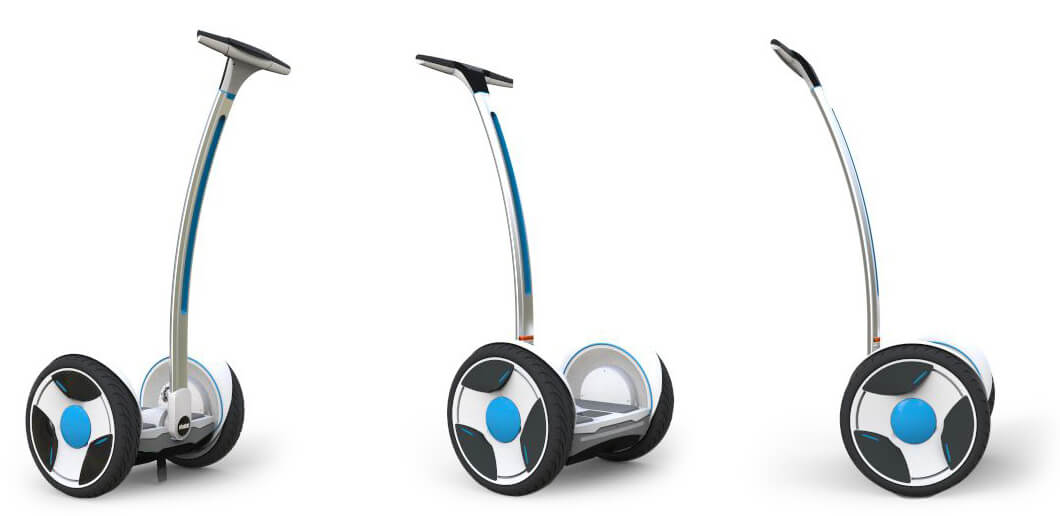 Out of stock
Description
| | |
| --- | --- |
| Ease Of Use | Innovative Dual Safety Backup |
| Ninebot series of self-balancing robot (hereinafter referred to as Ninebot) is the next generation of personal transportation that will bring you incredible driving pleasure! When you first try a Ninebot and gently lean your body forward or backward, or try turning around, you will feel like the Ninebot is reading your mind and moves you automatically in the desired direction. Anywhere, anytime, enjoy the freedom. | Ninebot employs the most innovative and advanced "double backup technology" which makes it the most reliable and safest vehicle of its kind. For every main system component, there is a duplicate backup should the main part ever fail. This double safety technology ensures the drivers' safety at all times. Improving the person's lifestyle is our intention while protecting the safety of the driver is our responsibility and a standard feature built into every Ninebot. |
| |   |
| High-Tech Construction | Battery Technology |
| Ninebot is equipped with super lithium batteries, aluminum and magnesium alloy, dual backup systems, which result in an incredibly light vehicle. With a roughly half weight of other comparable products, it makes it possible for one person to lift a Ninebot into the trunk of a car with little effort. That is because Ninebot has the world's lightest and most robust construction. Our designer's material of choice is magnesium alloy. Magnesium alloy's density is 2/3 of aluminum, 1/4 of steel, so it is the most practical and lightest metal. | Unbelievable capacity and exceptional range is another advantage of Ninebot which is superior to other similar products due to its state-of-the-art Lithium battery technology. After many experiments and extensive testing by our engineers, we were finally able to develop a super lithium battery that results in shorter charging times, larger capacity and a combination of two separate battery modules inside of a single unit. This builds upon the same dual safety backup technology as the rest of the vehicle's systems. Super lithium battery equals unrivaled range and top notch user experience. |
.
Ninebot – P Specification
Appearance Abrazine Silvery; Abrazine White; Light blue; light Grey
Material Aluminium; Magnesium; LEXAN Jaffaite
Weight 25Kg/55Lbs
Machine Size 390mm×590mm×1100~1400mm/15.4in×23.2in×43.3~55.1in
Package Size 623mm×440mm×450mm、129mm×114mm×1200mm
Payload 20~150Kg/44~330Lbs
Max. Speed 20Km/h
Range on a full charge 18.6 Miles
Max. Slope 20°
Speed set Can be adjusted from 4-20Km/h(2.5-12.4Mile/h)
Battery 48V/450Wh
Motor 2*1350W
Tire/Wheel hub size Standard /12mm×2.75mm(0.47in×0.1in)
Back-up system Redundant Dual Safety Backup Technology
Remote control 2 pcs (10~20m/32.8-65.6ft)
Charger / Charge time External charger; 2~4 hours (100~240VAC)
Wireless Bluetooth wireless connection; Remote control( Mobile Phone APP)
Display Panel Display battery capacity; mileage; speed; temperature; Hardware versions; speed-limited mode;
remote control mode; locked mode; Bluetooth connection; Warning; System Alerts info
Remark: Specifications above for reference only, the parameters is subjected to change without prior notification.
Only logged in customers who have purchased this product may leave a review.