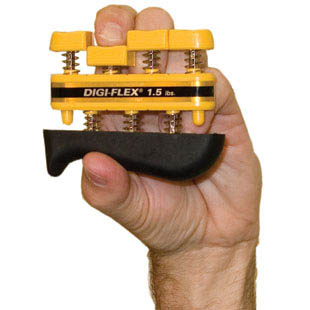 Digi Flex
Digi Flex Finger Digit Exerciser
Tune up your fingers, one by one!
With most hand exercisers, strong fingers compensate for weak. Unfortunately that means that the strong get stronger, while the weak stay weak.
The Digi-Flex system solves this problem by providing a dedicated, spring-loaded button for each finger. So all are challenged and none can shirk as stronger digits cannot compensate for weaker digits.
While building individual finger strength, flexibility and coordination, the Digi-Flex also strengthens hand and forearm.
Includes informative pamphlet illustrating a variety of finger exercises.
Five color-coded resistances are available:
Yellow: 1.5 lbs. (0.7kg)
Red: 3.0 lbs. (1.4kg)
Green: 5.0 lbs. (2.3kg)
Blue: 7.0 lbs. (3.2kg)
Black: 9.0 lbs. (4.1kg)
Optional
Plastic display rack
Only logged in customers who have purchased this product may leave a review.